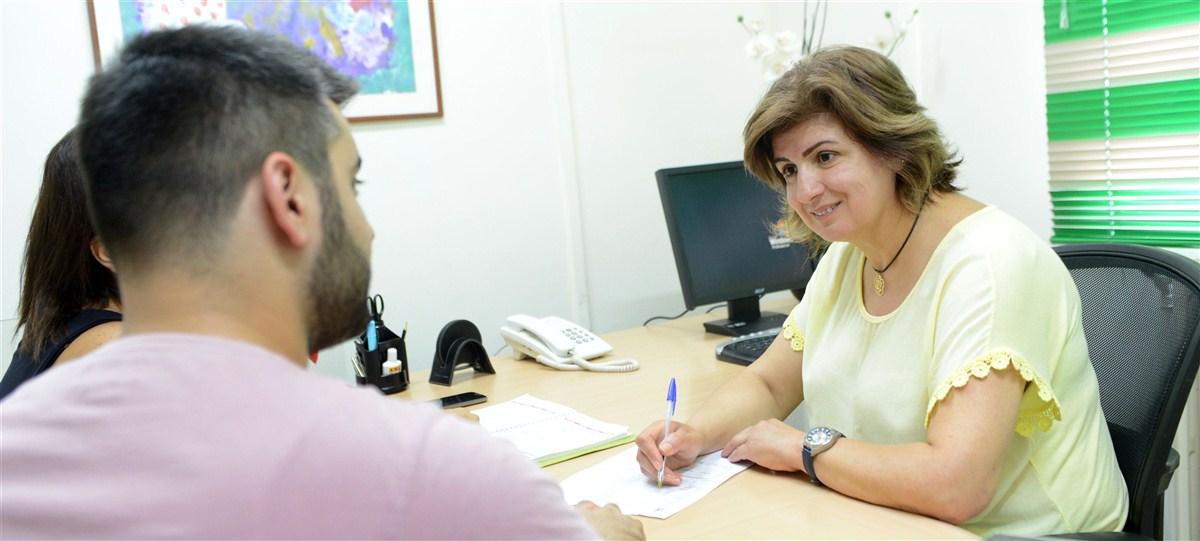 First contact with the family of a child who needs care via the outpatients services

WHO ARE WE?
Having launched the outpatient services programme in October 2009, we seek to expand our services and help more children benefit from our experience.
1358 beneficiaries were taken care of in 2020-2021. Consequently, we have established agreements with 245 therapists, who work for SESOBEL around the country.
We consider these "outside" therapists part of SESOBEL's team; they can undergo training at our "Continuous Training Centre" and benefit from our multi-lateral expertise.
Concerned public:
The under aged who need ambulatory services.
The beneficiaries might be:
- Children under 6 years of age, who:
    *are waiting to join the Early Stimulation Unit or one of SESOBEL's Pedagogic Programmes 
    *are already integrated into one of SESOBEL's units but need further rehabilitation (children who've undergone a surgery operation, for example)
- 6-18 year-olds
    *beneficiaries in need for assessment and rehabilitation
    *children attending "ordinary" schools but showing learning or behavioral disorders
Note that every year around 30% of the beneficiaries stop receiving services because for most of them, this is a one-time support.
What and where are the services provided?
- Assessments and rehabilitation: physiotherapy, respiratory therapy, occupational therapy, psychomotor therapy, speech and communication therapy, as well as special educational and psychological monitoring
- Medical examinations: Gait analysis (the study of human motion) and respiratory examinations (domestic nocturnal examinations plus exploration of respiratory functions)
- Positioning assessment and technical-aid tools: Standard technical-aid tools could be demanded. Adaptable technical-aid tools or simulating ones could be made, too.
- Coordination / link between therapists and preschool and school institutions at the request of parents.
- Parental Guidance
Services might be provided:
- at SESOBEL, where some therapists will stay after the daily schedule is fulfilled
- at authorized therapists' clinics
- at the patients' homes
Procedures for families and therapists:
Unless they are benefiting from third-party payers such as the Lebanese Army, the local police, the General Security Forces, Internal Security Forces or insurance companies, beneficiaries themselves have to pay for the costs of services.
Children are referred by :
- The armed forces (63% of our children are referred to us through our partnership with all local armed forces.)
- Therapists who do not have agreements with third-party payers. Unless agreed on that with the Army, the families of Army members have to pay for the sessions, whereas if they are referred through SESOBEL, the sessions will be reimbursed.  
-  Doctors
- The surrounding environment: staff, interns, families, collaborators/colleagues and neighbors
- Schools and nurseries that detect problems that their children are facing
- Media
OPERATIONAL RULES :  
- It takes around 2 weeks after the treatment is decided on upon before we get it started; that will be the duration we need to find the nearest qualified therapist.
- In case of previously unreported absence, the session untaken must be paid to the therapist. 
- Parents should sign an intervention sheet after each session
- Parents are responsible for conveying therapists' advice to school or nursery teachers.
-Parental guidance is required.